Steel Detailing India Quality Shop Drawings Services Provider
Steel Detailing India has served as steel detailing consultants for engineers, contractors, steel fabricators, steel detailers, steel erectors and construction firms. We have strived to give our worldwide clients the most economical steel stair handrails drawing services that are in compliance with all of the exciting standards.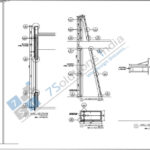 We provides high quality and cost actual steel work detailing services to a wide range of steel construction industries and individuals. We have professional team of skilled steel detailers, engineers and draftsman with the experience and ability to undertake all aspects of the steel work construction industry including residential, multi-level apartments, commercial, light industrial, health and government.
We absorbed in providing superior steel fabrication drawings, shop drawings and steel detailing drawings. Our expert structural steel detailers suggestions full range for fabrication shop detailing drawings resulting high brilliance outputs, better delivery schedule and significant cost saving.
Shop Drawing Detailing & Drafting
Structural Steel detail drawings
PEMB detail drawings
Rebar detail drawings
Precast detail drawings
Miscellaneous Structure detail drawings
Architectural Building Metal Cladding drawings
Transmission Structures detail drawings
Oil and offshore structure detail drawings
Erection and shop drawings
All CNC Data lnput files
Steel Shop drawings
Stair Shop drawing
Handrail Shop Drawing
Sheet Metal Shop drawings
Miscellaneous Drawings
Millwork drawings
Steel Fabrication Drawing
Erection & GA diagrams
Cabinets Shop Drawing
OUR DOMESTIC AND INTERNATIONAL STEEL DETAILING PROJECTS INCLUDE:
multi-story office buildings
schools and universities
stadiums
airports
churches
hospitals
Steel Detailing India afford structural engineering like Structural Drafting Services, Structural Steel Detailing Services, Concrete Rebar Detailing Services, Structural Detailing Services and Miscellaneous Steel Detailing Services.