Steel Detailing India  – Steel Detailing Drawings And Fabrication Shop Drawings – Steel Structural Detailing and Shop Drawing Services Company
Steel Detailing India is expert in steel detailing drawings, fabrication drawings and structural steelwork detailing drawings services. Our specialists steel detailers provides full range for steel shop drawings services resulting high quality outputs, improved delivery plan and important cost saving.
Our steel detailers first recognize your structure building drawings requirements in details with right set of questions. This helps in maintaining smooth message flow from start to final steel plans outputs. We work for clients across USA and Canada undertaking projects of changing size and complexity, working for a variety of organizations ranging from international companies to fabricators and detailers.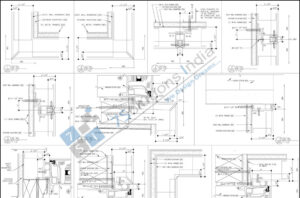 Inquiry Here: http://www.steeldetailingindia.com/inquiry.php
Our structural steel detailing drawings services includes:
Steel Detailing Drawings Services
Shop Drawings Services
Steel Connection Drawings
Working Drawings Services
Grating Detailing Drawings Services
Bar Joists Drawings Services
Erection Drawings Services
Anchor Bolt Plan Drawings
Steel Members Services
Misc. Steel Detailing Services
Steel Stair Case Detailing Drawings Services
Stair Handrail Detailing Drawings Services
Fence Detailing Drawings Services
Metal Detailing Drawings Services
Windows Detailing Drawings Services
Door Detailing Drawings Services
We have a team of highly trained professionals with extensive experience in a wide range of structural steel projects. We can liaise with consulting engineers, detailers, fabricator and other trades to ensure that project program can be maintained.